12V lead-acid batteries > Lithium Batteries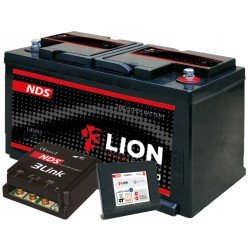 3Lion LiFePO4 batteries from NDS are designed specifically for use in motorhomes, caravans, other vehicles and boats and can completely change the way that you use both the 12V and 230V electrical systems. They come complete with everything required for safe and efficient installation, including a touch-screen colour display.
Each battery has a built-in battery management system (BMS) to ensure correct charging and long life. In addition, there's an external "3Link" BMS which can be used to connect two batteries together if required and which also connects to the vehicle's starter battery.
If you want to use 230V appliances such as a coffee machine, hairdryer or microwave oven, a lithium battery makes this much more practical than would be the case with a lead-acid battery. Lithium batteries work well with inverters, providing lots of power without the risk of damage to the battery cells.
3Lion batteries offer many advantages over lead-acid batteries including:
Fast charging, up to 75A per hour
Long lifetime, over 2500 charge / discharge cycles
Low weight - less than 60% of a comparable 100 Ah lead-acid battery
Excellent performance when used with an inverter
Very low self-discharge rate
No risk of fire or explosion
Safe to keep in the living area
Minimal maintenance required
There are four models in the line-up, each with their own features and benefits.
Important Note: In order to perform correctly and ensure long life, it's essential that a LiFePO4 battery is used with a suitable battery management system (BMS). Just because a lithium battery is described as LiFePO4, it's not necessarily suitable for use in a vehicle or boat. NDS 3Lion batteries all have a BMS built in.