Battery management & monitoring > NDS Power Service systems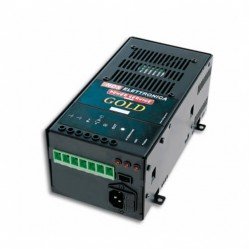 NDS were one of the first manufacturers to introduce battery to battery systems for charging leisure batteries in a motorhome or boat. They've developed the range and now have three different versions of the "Power Service" chargers. You can find out about two of them in our "Battery to Battery" section but here we're looking at the "Gold" range which is much more than a simple charger. There are three models, each with a different output rating and they can be used as the main charging unit in a vehicle, with inputs from 230V mains power, a solar panel and, of course, the vehicle's starter battery as well.
The Gold Power Service units are a complete battery charging system in one box and are ideal for use in campervans, boats and motorhomes. If you're a manufacturer or a self-builder, this could be just what you need to keep your vehicle's leisure batteries charged at all times. And, of course, they've been designed to work with "smart" alternators as well as regular ones.