Solar power > NDS Aero Solar Panels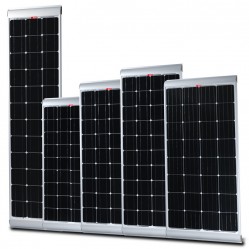 NDS solar panels look great! But that's not why we recommend them to our customers. They're made to very high standards for NDS in Italy using Grade "A" mono crystalline cells for maximum efficiency and reliability. The panels are built into aluminium frames and then fixed to aluminium mounting bars – "Aero mounts" - which not only look good but make installing the panel easy and quick. Bypass diodes are built in which help to protect the panel against damage and minimize power loss due to shading.
Panels come with 6 metres of twin-core cable which, again, helps to make installation easier and they're available in the following power ratings:
80 Watt
100 Watt – normal and slim-line
120 Watt
140 Watt
Although it's possible to fix NDS solar panels to a vehicle's roof using only an adhesive such as Dekasyl MS-2, we recommend using screws as well: just in case!
Please note that, when fitting to a vehicle's roof, all NDS Aero panels need a 6-12mm cable entry box.
Sign up to our newsletter