Air conditioning > 12V / 24V air conditioning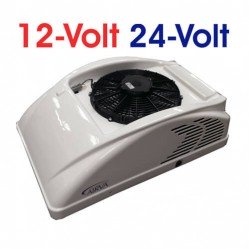 Most air conditioning units for vehicles operate on 230V which is fine if you're parked up with access to mains power or if you have a generator. For real air-conditioning when only 12V or 24V is available, these units are what's needed. Specially designed to run on DC current, they're just as effective as AC models while consuming a lot less energy. Even so, both the 12V and 24V version must be installed correctly and with an appropriate battery supply if they're to work correctly.
Please note that these air conditioners have no heating capability: they are only for cooliing.