Interior Accessories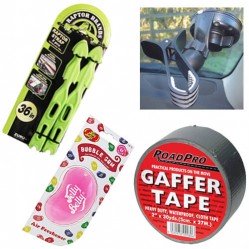 When you're living or working in your vehicle or boat, we've got plenty of products to make life more comfortable and more fun as well.
For sticking things, fixing things, securing and storing them, we've got a wide choice of products. Air fresheners are always popular and we have ones that hang, spray and sit discreetly out of sight. Make your living and driving areas smell of oceans, forests, fruit and sweets. We even have ones in the form of surfboards and sandals: perfect for VW campers!
If you're a truck driver, we have a number of decorative products just for you, some of them designed to be connected to 24V. If you're a caravanner or motorhomer, use Stickamap to record your travels and show others too.
Sorry, no products have been found
Sign up to our newsletter