Dekalin products > Sealing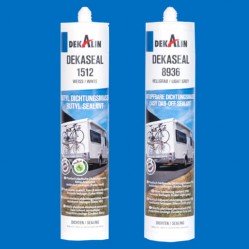 Dekalin sealing products are butyl-based and recommended for use in situations where a flexible, non-hardening but waterproof seal is required.
Dekaseal 8936 is a unique polyisobutylene-based product which guarantees a waterproof seal when used to install panels, vents and windows in caravans, motorhomes and boats.
It's permanently sticky, non-hardening and any excess sealant can be simply dabbed away or trimmed using a plastic blade saving time and avoiding the risk of damaging side panels. Long storage life of more than two years means that the contents of a cartridge can be used over a period of time.
Applications include: sealing of overlaps, joints and sunroof systems. Sealing in general where pressure is applied. Dekaseal 8936 is not an adhesive though and must always be used in conjunction with mechanical fixings.
Dekaseal 8936 is used in vehicle construction by the following manufacturers: Fendt, Carthago, Bürstner, Dethleffs, Benimar, Sunlight, Westfalia, Pössl, Globecar, RS Motorhomes and Wellhouse.