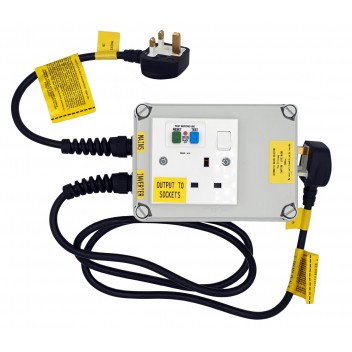 Cliveway Priority Switch with RCD
C7679A
Description
When installing an inverter in a motorhome, campervan or caravan, it's essential that it's installed and used safely. 240V appliances can be connected directly to the inverter's output socket/s, or even to an extension lead. But, when connected to a vehicle's 240V sockets, it's essential that a dedicated RCD is installed as well. The RCD which is built into most factory-built vehicles of this type is only connected to the 240V mains supply from the EHU (electrical hook-up) and will not work if the vehicle's sockets are connected to an inverter.
The Cliveway has been designed in association with MMM's (Motorhome Magazine Monthly's) electrical expert, Clive Mott, and makes it simple to safely install an inverter that supplies power to all the 240V sockets in a vehicle when EHU is not available. The Cliveway incorporates an RCD for safety and a priority switch that detects when the inverter is switched on. This means that whatever inverter is used, the 240V power supply in the vehicle is guaranteed to be "as safe as houses."
The Cliveway can be used with any inverter that has an output rated at up to 3,000W. However, care should be taken that the vehicle's wiring is capable of carrying the current demanded by the appliances connected to the inverter. For example, if the wiring in the vehicle is rated at 10A at 240V, the maximum wattage of any appliance being used should be 2,400W. Exceeding this could cause problems.
The Cliveway is simple to install and comes with full instructions which can also be seen below. The only additional item required is a 3-pin mains socket, either fixed or trailing type. This is attached to the existing wiring that supplies the vehicle's 240V sockets.
More Information
Specifications