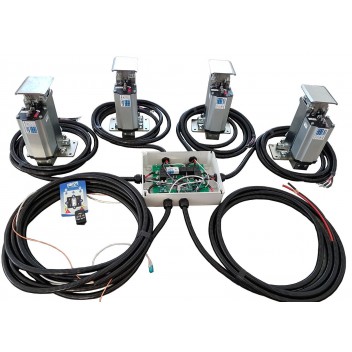 TESA AutoLift 4 Levelling System
J2401
Description
The Autolift system is driven by an electronic control unit for self-levelling of your vehicle, the jacks can also be controlled manually and this is done in pairs i.e. front pair, back pair, left or right side pairs.
The control unit has built-in safety features to prevent accidental descent of the jacks whilst the vehicle is in motion and to prevent driving with them down. When not in use the jacks fold up horizontally under the motorhome's chassis which helps reduce their impact on the ground clearance of the vehicle.
The system can be operated from the in-vehicle control panel or from the supplied remote controller.
NOTE: The price shown includes the jacks, control unit and cabling. It does not include the cost of the mounting brackets or installation.
This item has to be shipped on a pallet and delivery times are approximately 3 working days, Delivery can only be arranged to a registered business address and cannot be shipped to a residential address
Specifications
| | |
| --- | --- |
| PRODUCT CODE: | J2401 |
| MANUFACTURER: | Tesa |
| Manufacturers code: | FA4 |
| Contents: | 4 x actuators;1 x prewired control unit;1 x fixed control panel;1 x remote;4 x Jack pads and positioning rod |
| Voltage: | 12V |
| Amp Rating: | 12A |
| Maximum load - kg: | 5000 |
| Maximum Levelling Length as a percentage: | 8% |
| Maximum levelling Width as a percentage: | 12% |
| Maximum jack extension: | 160mm |
| Weight in KG: | 48 |
| Warranty: | 3 |
| weight: | 48.000 |
Customer Questions
Asked by Steve
While realising this is a little like asking how long is a piece of string, how much power does this system use to level a motorhome? While the system would be convenient, it would be little use if drains the battery! We have an Autotrail Delaware 'S' with a maximum weight of 4,500Kg. When on the weighbridge, fully laden, the axle weights were Front: 1830Kg, Rear: 2370Kg (Total 4,200Kg). Do you have an idea of the power required to lift the front by 4 inches for example? I assume the power is taken from the leisure batteries? (We have the factory fitted 2x95Ah AGM batteries fitted but we are considering changing to Lithium when these expire.) The vehicle is Fiat based with an ALCO chassis. How much would you charge to fit this system? Many thanks. Steve
Answered by Allen Jenner at RoadPro
on January 30th, 2019
Hello Steve,

Thank you for your enquiry.

The length of a piece of string, is twice the distance of one end to the middle.

The TESA lift uses 12A per hour, per jack to lift 1,000kg so at 4,500Kgs it would use approximately 3.6 Amps to level your van.

Which I am sure you'll agree is quite impressive, and easier to answer than how long the string is.

We''ll need some more information to quote accuratley for the fitting, please contact us on installations@roadpro.co.uk
---
Asked by Nicholas
Does this system allow you to tilt the van to enable emptying of water tanks etc. ?
Answered by Allen Jenner at RoadPro
on June 10th, 2019
Yes the system can be used for this purpose and others such as changing a flat tyre
---
Asked by John
1. Is this transferable should I change my vehicle. 2. How long would you take to fit the system. 3. Is the system safe to allow working under the vehicle
Answered by Andrew Harris at RoadPro
on September 12th, 2019
1) It depends on the new vehicle but, as a rule, we would not recommend this.

2) One day, possibly 1.5 days depending on the vehicle.

3) Probably, but that's not what it's designed for.
---
Asked by Steven
sir, 1. What is the cost of supply and fitting of of the Tesa Automatic Levelling System ? 2. Can this system handle a 5 tonne tag-axle motorhome ? 3. Are there any limitations on the system - ie : can the system be used on grass (Feet/stands appear very small compared with hydrollic lifts ? 4. What is the maximum lift height of the system ? 5. Is this system fitted at the Roadpro premises (albeit by a Tesa technitian) ? Your assistance is apricated. steve. (Kent).
Answered by Andrew Harris at RoadPro
on February 03rd, 2020
Hello Steve. Here are the answers:

1) £3,495.00 including installation

2) Yes

3) Yes and plastic pads are supplied that can be used on soft ground

4) Maximum extension is 420mm

5) We have installers around the country including Mercury RV in Teynham, Kent and S&G Leisure near Luton.

Hope this helps, Andy
---
Sign up to our newsletter