Satellite systems > Alden satellite systems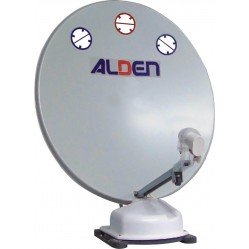 Alden have been making products for motorhomes for more than 20 years. In that time, they've built up a reputation for simplicity of use, reliability and value for money. This is reflected in the fact that Alden systems are now the best-selling satellite systems in France, No. 2 in Germany and are sold all over Europe and in Australia as well.
The range of satellite systems is straightforward and has models which cater to most requirements. If you don't see the model you want here, please ask us about availability.
Recent Reviews
ALDEN 85cm Orbiter Satellite TV System
I purchased an Alden sat dish and receiver for my motorhome. The product was fitted very neatly and on completion a user/demo was carried out. Since then the products have worked fine. No problems whatsoever. Even when trees have been in the way the dish still manages to get some stations.To my surprise the quote and what I paid was different. I was given a discount for a CCC membership. Quality. Garry.