12V / 24V Products > Electronic alarm systems & security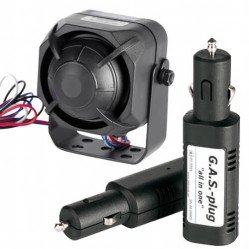 There are many alarm / tracker systems available for motorhomes and caravans but, after having used the most popular models, we believe that the Sentinel from Phantom is probably the best for most people. Not only does it provide a very high level of security but it has several other features which no other system has.
Most importantly, it can be controlled remotely via an app on your phone. This means that, as long as you are in phone contact, you can decide who can get into your motorhome or caravan. You can lock and unlock, arm and disarm your vehicle from anywhere in the world. You can also see where the vehicle is using Google Maps.
Secondly, on most motorhomes including Fiat Ducatos, the alarm system can be controlled using the standard Fiat central-locking control: no separate controller is required. This is not only convenient but helps to reduce the number of false alarms.
The Sentinel system works on the theory that it's better to keep intruders out of the vehicle than let you know when they are inside and stealing your possessions. To achieve this, wireless electronic switches on lockers and windows are used. Unlike wired systems, which can be easily and quickly disabled, wireless switches ensure maximum security at all times.
Sorry, no products have been found
Sign up to our newsletter