12V lead-acid batteries > Banner "Energy Bull" batteries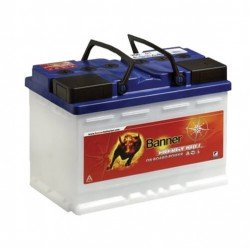 Banner "Energy Bull" batteries are what is known as semi-traction batteries and are designed for use with machinery or other equipment where the ability to reliably provide constant power for periods of time are required. This makes them ideal for use as leisure batteries in motorhomes, caravans and boats, and they are fitted as standard equipment by many motorhome manufactures including Auto-Trail, Bailey and Rapido.
When used with a solar panel, a battery to battery charger or a mains charger that's on for days at a time, the electrolyte levels of Energy Bull batteries must be checked on a regular basis. This is easily done thanks to the translucent case. As with any wet lead-acid battery, if the electolyte is found to be low, it needs to be topped using distilled water. The filler caps on an Energy Bull battery are fitted with a seal which is designed to be leak-proof and so we recommend the use of the special Banner cap removal tool which enables the caps to be removed easily and without damage.
If used moderately and charged only by the vehicle's standard charging system and perhaps an "intelligent" charger such as our CTEK models, evaporation of the electrolyte will be minimal but the levels should still be checked on a regular basis.
Please remember that the effective life of any battery is determined by how it's used. For more information on battery care, see our FAQs leaflet.