Battery management & monitoring > I-Manager battery controller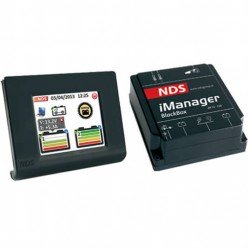 iManager is an innovative management system for auxiliary / leisure 12V lead-acid batteries and is ideal for use in motorhomes, caravans, boats and other vehicles where maximum battery performance is critical. The system constantly monitors the state of charge of one or two batteries and ensures that they are used in the most efficient manner. Although the iManager operates completely automatically, it is a simple matter to switch to manual mode if required.
Usually, when two batteries are used together, it's always recommended that the batteries are of the same type, size and age. However, because of the way the iManager works - monitoring each battery separately - it's possible to use two completely dissimilar batteries: for example, a four-year old 100Ah gel battery and a new wet lead-acid battery with 85Ah capacity. Two battery banks of up to 600Ah capacity each can be connected to iManager and the charging current limit is 100 Amps.
In addition to looking after the leisure batteries, whenever iManager detects that they are being charged, it sends up to four Amps to the starter battery, helping to avoid unpleasant surprises when it's time to move on.
A full colour LCD touch screen displays the condition of the batteries and shows Amps in and out as well as the voltage. The screen fits almost flush to the mounting surface. Using the screen, you can switch between batteries manually or let the system take over, ensuring that your leisure batteries are always being used in the most efficient way. You can also see exactly what condition and state of charge your batteries are in, including your starter battery.
Main features of iManager are:
Automatic and manual management of one or two service / leisure batteries, even of different technologies and Amp hour capacity.
Dedicated engine battery output which charges at up to 4 Amps and charges the starter battery when the leisure batteries are fully charged.*
Displays the Voltage and level of charge of both service / leisure batteries and starter battery.
Displays charge and discharge current of service / leisure batteries.
Automatic or manual battery switch-off (below 11V), using the touch screen.
Temperature monitoring when charging / discharging for maximum efficiency.
Continuous recording of how and when the batteries have been charged and discharged.
*The engine battery will be charged only under certain conditions:
A charging source is available – 230V charger or solar panel.
The engine battery voltage is under 12.5V but not below 10.5V.
The leisure battery voltage is at least 13.3V .