Battery management & monitoring > Battery maintainers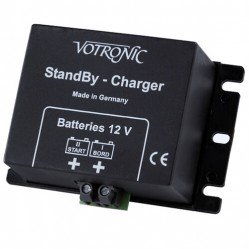 With any vehicle or boat that's left un-used for weeks on end, there's a good chance that the batteries will have run down. Batteries naturally self-discharge so this is completely normal and getting back to your vehicle to find that the starter battery is so flat that it won't start the engine is an all too common occurrence.
As well as self-discharging, the starter battery of a vehicle or boat may be continuously supplying small amounts of current to an alarm system, a tracker or a radio. Over a period of time, even such small power demands can reduce the ability of the battery to actually start the engine. When a battery reaches the point where it can't do its job, it's not just inconvenient, it's expensive too as the battery will start to deteriorate and will need replacing much sooner than if it's kept in a charged condition.
Our battery maintainers keep a vehicle's starter battery topped up by taking current from the leisure battery and, except for the Ablemail unit, only work when the leisure battery is being charged, either by a solar panel or when on 230V hook-up.