Solar power > FLEX solar panel kits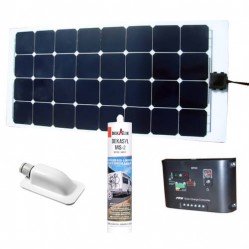 Semi-flexible solar panels are ideal for situations where a rigid panel can't be installed. Light weight and discreet appearance are added advantages. We stock two types of semi-flexible panels: SolarFLEX from NDS and SuperFLEX from MiPV.
SolarFLEX panels use high efficiency SUNPOWER cells with back contact technology. This makes them stronger and more efficient than panels with standard crystalline cells. SolarFLEX panels are available in three sizes.
SuperFLEX panels are unlike any other panel available for use on vehicles and boats and they have a huge advantage in situations where conditions are less than ideal for generating power from a solar panel: in other words, in the UK! SuperFLEX panels are made using thin-film CIGS (copper indium gallium selenide) cells. Unlike silicon cells, which only work efficiently when pointed directly at the sun, CIGS cells generate power even when the sun is hitting them at an acute angle, early in the morning and late in the afternoon. What's more, because of their unique construction, panels made with CIGS cells will continue to work even when one or several of the cells are in shadow. This makes them perfect for use on narrowboats as well as motorhomes and caravans, where trees cast shade on panels.
NOTE: We only sell SuperFLEX panels as complete kits (although additional panels are available if required). This is because some MiPV panels operate at higher voltages than typical silicon panels and only certain regulators are suitable. In addition, to maximise the perfomance of SuperFLEX panels, we supply Votronic MPPT regulators in every kit.
Flexible solar panels from RoadPro are unique in that they all come with self-adhesive backing. This not only makes them easier to fit but also provides a certain amount of protection against vibration and movement of the mounting surface.
Our kits include everything needed to install the panel except sealant which is needed to seal the edges of the panel when it's fitted. You can order Dekalyn MS2 sealant separately and it's available in various colours.
Solar panel with adhesive backing
Solar regulator – choice of PWM or MPPT with SolarFLEX panels. MPPT is standard with SuperFLEX panels.
Cable entry box
2 x 5M cables with MC4 connectors (MiPV panels) OR 1 x 4M twin cable with bare ends (NDS panels)
Sign up to our newsletter