Solar regulators & Monitors > Basic Solar Regulators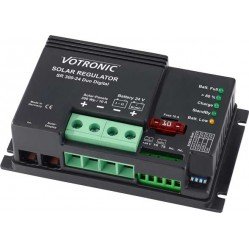 Votronic solar regulators are probably the best you can get. They're compact and straightforward to install and have features that just can't be found in alternative products.
They can be used with just about any lead-acid battery as well as LiFePO4 lithium batteries. Most models are for 12V batteries but we have models for 24V batteries as well. Votronic solar regulators can be used with panels with an output of up to 430 Watts and all models can be connected to the Votronic solar display (C5588).
If you're looking for a basic PWM (Pulse Width Modulation) solar controller, you don't need to look any further.