Specialist Products for Vehicles & Boats > Protective screens and covers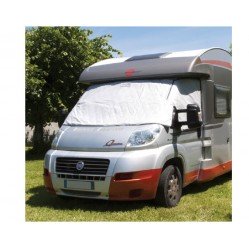 If you go to a campsite in the south of France in the summer or up in the Alps or the Pyrenees during the winter, you'll see that most motorhomers are using insulating screens as well as protective covers. You'll also notice that the most popular models are those made by Soplair.
Why? It's simple: Soplair screens and covers are handmade in France using the highest quality materials. As a result, they keep out the cold in winter and help to protect from the blazing sun in the summer.
Thermal screens really do make an enormous difference to the temperature in your motorhome, completely eliminating condensation and keeping the interior up to 10°C warmer or cooler than the temperature outside. Used correctly, a Soplair screen will last for many years and, once you've tried one, you'll never want to do without again.
Protective covers for engine compartments, wheels, skylights, windows and mirrors help to protect your vehicle from the elements and, again, insulate the interior against extremes of heat and cold.
To make it easy to find the screen or cover you want, we've got three product categories.
Thermocover Windscreen Covers: If you use your motorhome only in the UK and prefer to stay at home during the winter, a Thermocover will probably be what you need.
Isoplair Windscreen Covers: If you travel to places where the climate can be more extreme – the Alps or southern Europe for example – you'll need an Isoplair cover.
Protective Covers: here you'll find all the covers that can help to protect your motorhome but don't attach to the windscreen.
Sorry, no products have been found
Sign up to our newsletter