Specialist Products for Vehicles & Boats > Horns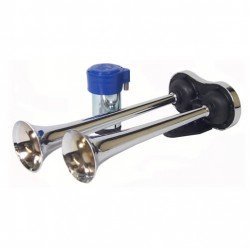 It doesn't matter how big or small your motorhome is, you'll probably have the same sort of electric horn that you'd find on a car. Wouldn't the horn be more effective if it made the sort of sound that truck horns make?
We reckon that, if trucks have air horns, motorhomes should too and, with our 12V compressor systems, they can. Neat and unobtrusive, a set is not difficult to install but, if you prefer, we can do it for you. You'll notice the difference straight away and so will your fellow motorists.
(Our horns sound good on boats too!)
Sorry, no products have been found
Sign up to our newsletter