Specialist Products for Trucks & Buses > 24V - 12V converters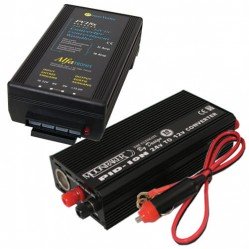 If you have a vehicle that runs on 24V and you want to use appliances that operate on 12V, you'll need a voltage converter.
Alfatronix models are designed for professional use and come with a lifetime warranty. They are available in two types: isolated for use in vehicles such as fuel tankers and non-isolated for use in general purpose vehicles and boats.
Our range of Moonraker converters are ideal for drivers who want to simply plug a converter into a 24V lighter socket so that they can power a TV for example.
Sorry, no products have been found
Sign up to our newsletter