Mark2 Electric Bikes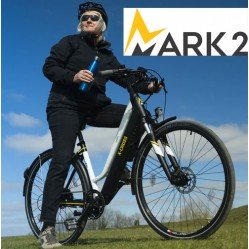 Mark2 Electric Bikes was formed in 2016 to bring exceptional quality, innovative E-bikes to the UK and the company has become a leading name in E-bikes, thanks largely to their novel, fresh approach to the design & manufacture of the electric bikes in the Mark2 range.
Compare Mark2 bikes to cheaper models and you'll immediately notice the many differences, not least in the quality of the components and the overall build quality. Then compare them to models costing hundreds, or even thousands of pounds more and you'll be very pleasantly surprised at the value for money that Mark2 bikes offer across all their models
All Mark2 bikes are fully legal, complying with both UK and European legislation concerning E-bikes. There are four models currently in the Mark2 range and, between them, there's a bike for almost everyone who's looking for an electric bike. Standard features include:
Strong, well-balanced frames
High-quality Shimano gears & brakes
Danish-made electric motors, batteries and controls
High-capacity batteries
Top-quality wheels and Schwalbe tyres
Easy-to-operate controls
Unique walk-assist throttle
Stylish appearance
5-year warranty on the frame
3-year warranty on motor and battery
2-year warranty on all other components
At RoadPro, we've been riding Mark2 bikes for three years and we've been so delighted with them, that we asked if we could add them to our range. Come and see the bikes at our Daventry premises and, if you make an appointment, we'll be happy to let you borrow one to explore the delights of Daventry Country Park.
You can test-ride any of the bikes in the Mark2 range, on and off-road, at our Daventry premises.
Email us to make an appointment: bikes@roadpro.co.uk