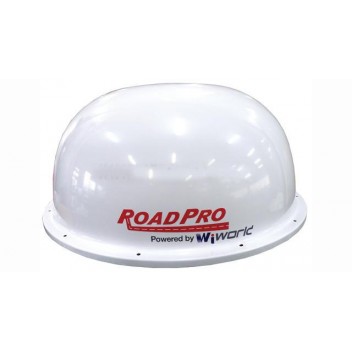 Replacement Cover For 40cm RoadPro Sat-Dome
D31U01
Description
This is a replacement cover for 40cm RoadPro sat-domes with 12-hole rim fixing. Compatible with In-Motion, Static & Twin LNB variants.
We do not have a specific cover for the 30cm RoadPro Dome, but this cover will fit this size too.
Please note: We can ship this F.O.C. within mainland UK. Outside mainland UK, because of the size of the box required to ship the product, the cost of shiping is very variable. Please email us at sales@roadpro.co.uk if you would like to check on shipping costs,
This Item is delivered plain and without any decals, image provided here is for display purpose only.
More Information
Specifications
| | |
| --- | --- |
| PRODUCT CODE: | D31U01 |
| Manufacturer's product code: | RADOME(UPPER)40CM |
| MANUFACTURER: | Wi World |
| Item in Kg: | 1.125 |
| weight: | 1.500 |
Customer Questions
Asked by Gerald
Dear Sir/Madam We have a customer in need of replacement parts for their Satellite equipment, particularly the Dome/Cover, style Camos CSA 1450 AS/N (Camos 1450 sa). According to our dealer, your RoadPro part 40 cm Sat Dome is compatible with the cover mentioned. could you please confirm compatibility, or suggest the correct part so we may order these parts for our customer. Thank you in advance Gerald Malinowski
Answered by Allen Jenner at RoadPro
on June 06th, 2018
Hello Gerald, yes the cover is compatible, the internal componants probably not.

Please contact technical@roadpro.co.uk with a picture of your system from above with the cover removed.
---
Sign up to our newsletter