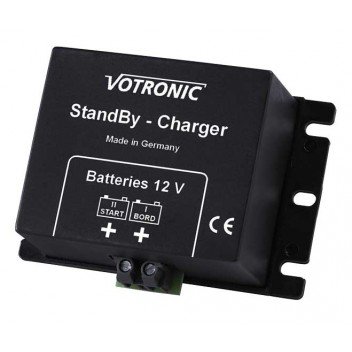 Votronic 3065 StandBy-Charger 12V - Battery Master
C8451
Description
This Votronic charger is a great way to trickle charger your engine battery in a motorhome, Installed between the starter battery and the leisure battery, it will put up to 3 Amps into the starter battery whenever the leisure battery is being charged from mains hook-up or a solar panel.
Click here to see the description, full technical specifications and features of this product.
BORD battery and START battery are German for LEISURE battery and STARTER battery respecively.

We recommend the use of 2.5mm cable when installing this product.
Please note that this device is for use with lead batteries (acid/GEL/AGM technology) and cannot be used for the combination of LiFePO4 and lead (starter) batteries.
More Information
Specifications
| | |
| --- | --- |
| PRODUCT CODE: | C8451 |
| Manufacturer's product code: | 3065 |
| MANUFACTURER: | Votronic |
| Item in Kg: | 0.07 |
| Warranty - years: | 3 |
| weight: | 0.090 |
Customer Questions
Asked by Tommy
Please can you advise what cabling is required for the Battery Master, and does this product require fusing?
Answered by Allen Jenner at RoadPro
on May 04th, 2017
Hello Simon,

Thank you for your enquiry.

For installation of the Battery Master we recommend use of 2.5mm² cable such as our U0040R the unit requires fusing on both sides, using inline 5 Amp Fuses. (available on request)
---
Asked by Paul
Hi team, I have a Van Bitz Battery Master fitted to my Motorhome which doesn't seem to be working, my question is:- can this Votronic 3065 be a direct replacement and can it be fitted under the bonnet. I notice that there is a waterproof version 13065, is this available and at what cost. Kind Regards Paul
Answered by Andrew Harris at RoadPro
on November 11th, 2018
Hello Paul, Yes, the Votronic 3065 is a direct replacement for the Van Bitz unit and it can be fitted under the bonnet. We don't stock the waterproof version as we've found that it's not necessary. It's intended specifically for use on boats.
---