Specialist Products for Vehicles & Boats > Mirror Armour & mirror covers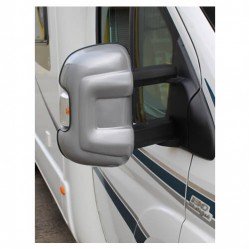 With replacement mirrors for motorhomes costing as much as £350.00 each, our ultra-strong ABS plastic Mirror Armour can save you money whilst looking great too.
2007 - 2015 FIAT, PEUGEOT, CITROEN X250 & X290: SHORT AND LONG ARM
2001 - 2006 FIAT, PEUGEOT, CITROEN
2001 - 2012 Ford Transit
2013 - 2015 Ford Transit custom
If you're ordering for a coachbuilt motorhome, you'll probably need the long arm version; for a van conversion or a standard panel van, short arms are likely to be what's required. If your mirror has a temperature sensor, Mirror Armour will still fit.
Mirror Armour is available in gloss white, gloss black, silver and graphite grey.
We have regular covers too but we recommend this type for cosmetic use when a mirror has already been damaged or if you simply want to enhance the looks of your motorhome.
Sorry, no products have been found
Sign up to our newsletter