Specialist Products for Vehicles & Boats > Tyre Pressure Monitoring Systems - TPMS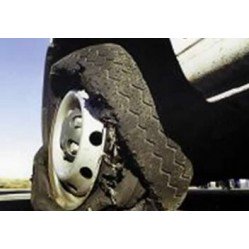 TPMS (Tyre Pressure Monitoring Systems) for motorhomes and caravans are becoming more and more popular. They're not fitted as standard in most vehicles of this type but you can get the next best thing from our range shown here. Since 2014, new cars have been fitted with tyre pressure monitoring systems. Using wireless sensors, these devices constantly monitor not only tyre pressure but also temperature, giving immediate warning of any changes in a tyre that could lead to a blow-out.
A blow-out on a car is bad but, if you've ever seen a motorhome or caravan that's suffered one, you'll know that the effects are even more dramatic and can lead to thousands of pounds worth of damage as a consequence of the blown tyre hitting bodywork. In the worst cases, a caravan or motorhome can be completely written off.
The Fit2Go system is designed to make installation and use as easy as possible. There's no need for pairing the sensors to the controller and the display simply fixes to the vehicle's windscreen with no need for any wiring. So it's discreet, easy to understand and reliable. Up to eight wheels can be monitored and the optional pressure reader makes checking tyre pressures simple too.
Frequently Asked Questions
Do the external sensors corrode?
Fit2Go sensors use a thread which, when incorporated with standard, brass tyre valves are very resistant to corrosion. During winter, when the roads are heavily salted, it is advisable to take some precautions by removing the sensors and placing a small amount of silicone grease or WD40 on the locking nut & screw thread of the stem and periodically checking them during this time. Where the wheel will be exposed to extremely salty conditions, e.g. boat trailers immersed in salt water, we recommend not using the locking nut.
When a tyre has aluminum valve stems, it is recommended not to use the Fit2Go system as there may be a possibility of bi-metallic corrosion occurring.
Sign up to our newsletter