LPG Equipment > Gaslow Range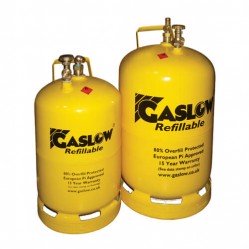 Gaslow is an LPG (gas) delivery system which is designed for use in caravans, motorhomes and boats. It removes the necessity to change gas bottles as the Gaslow bottles can be refilled at any LPG filling point including those in fuel stations all over the U.K. and the Continent.
Gaslow bottles are available in three sizes and a range of installation accessories is available which enable the system to be fitted to most motorhomes.
As long the installation is fitted and maintained correctly, Gaslow systems are just as safe as ones that use standard bottles and a lot more convenient.
Having a Gaslow system means that you will save money every time you fill a bottle - compared to what you would pay if you were exchanging a standard, pre-filled bottle. It also removes the problem of finding a supplier of gas bottles which will fit your vehicles connections and, when abroad, that will be just about everywhere.
Sorry, no products have been found
Sign up to our newsletter