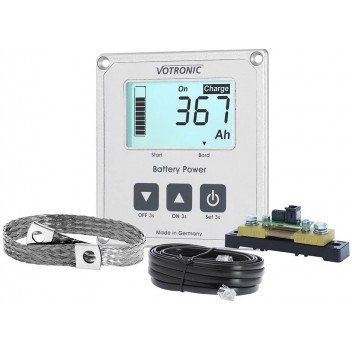 Votronic 1269 LCD-Battery-Computer 400 S with Smart-Shunt
C8509A
Description
Since the unit is permanently in contact with "its battery", it records and evaluates all battery actions. All charging and discharging currents are counted accurately. Battery size, self-discharge, battery load etc. are considered by programmed characteristic diagrams. Even the smallest leakage current is detected and recorded. The residual capacity of the battery is calculated from the measured values and the battery size. The result is a correct indication of the charging state (of the capacity, which is still available, the residual charge) of the board battery as numerical value in Ampere-hours ("Ah") and as percentage ("%"), as well as in form of a clear level bar, such as it is known from a fuel gauge. The LCD Battery Computer S is suitable for all battery types (acid, gel, AGM, lithium adjustable) with 12 V and 24 V battery voltage.
Of course, also the instantaneous battery voltage ("V") and the instantaneous battery current ("A") are displayed. Discharge current rates (consumers) are identified by a minus sign. Furthermore, the discharge current rates are marked with a well legible sign "Charge". Apart from that, there is a further display possibility for the voltage of a second battery, such as for control of the vehicle's starter battery.
The LCD Battery Computer S is equipped with a freely programmable terminal for control, supervision and warning purposes. It can, for example, be used for automatic switching of consumers, independently of the board battery's the charging state, or for warning signals. The on/off switching points can be adjusted freely and independently of each other as percentage (%) allowing any switching function. At the press of a button, manual control is possible at any time.
Click here to see the description, full technical specifications and features of this product.
Specifications
| | |
| --- | --- |
| PRODUCT CODE: | C8509A |
| MANUFACTURER: | Votronic |
| Manufacturer's product code: | 1264 |
| Item in Kg: | 0.705 |
| Warranty period - Years: | 3 |
| weight: | 0.910 |