Satellite systems > RoadPro sat-domes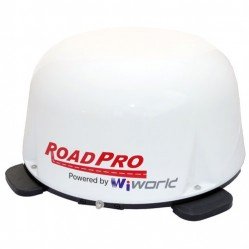 RoadPro has been selling sat-domes for more than 10 years and our domes, made by WiWorld in Korea are the most popular in the UK.
For various reasons, we are no longer selling these sat-domes and, instead, are offering our customers sat-domes with the very latest operating mechanisms. The main difference between these new RoadPro sat-domes and any others on the market is that ours don't have separate control boxes and never need updating to compensate for frequency changes made by the satellite operators.
If you have an older sat-dome system which needs updating, we can help you. Click on the PDF below to find out how.
Recent Reviews
RoadPro Mini-Dome
I ordered the mini-dome from Roadpro, delivery was prompt and self installation was fairly straight forward. Having thought about installing an automatic satellite dish on our motorhome for some time we had some points to consider, our vehicle has quite a low payload and weight is always a consideration (The Minidish weighs only 3.5 kg, less than the tripod, dish and signal finder we carried and we have freed up some storage space). Having travelled to Europe in the past we considered fitting an 85cm dish, however the weight was nearing 22Kg and to be honest we never find ourselves watching TV abroad. Having used the mini dome a few times now, it locks onto the satellite fairly quickly which I would estimate to be around 30 seconds and the TV indicates signal strength to be good. You do need line of sight with the satellite, however this applies with all types of satellite dish. Due to the Coronavirus lockdown we have not had a chance to use it greatly, however staying in Scotland we have found no issues in obtaining a good signal. When wild camping resumes, we can find ourselves in a location where aerial reception is poor the mini dome should overcome the reception issues and no popping out in foul weather to set a dish up. Early days yet, however initial thoughts are the unit meets our needs and functions without issue.
Frequently Asked Questions
Can I paint my RoadPro sat-dome's cover?
Yes you can. Almost any paint can be used and it will not affect the performance of the sat-dome. The only thing you must avoid is metallic paint with actual metal flakes in it.
Sign up to our newsletter