Satellite systems > RoadPro sat-domes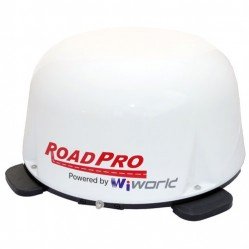 RoadPro has been selling sat-domes for more than 10 years and our domes, made by WiWorld in Korea are the most popular in the UK.
For various reasons, we are no longer selling these sat-domes and, instead, are offering our customers sat-domes with the very latest operating mechanisms. The main difference between these new RoadPro sat-domes and any others on the market is that ours don't have separate control boxes and never need updating to compensate for frequency changes made by the satellite operators.
If you have an older sat-dome system which needs updating, we can help you. Click on the PDF below to find out how.
Frequently Asked Questions
Can I paint my RoadPro sat-dome's cover?
Yes you can. Almost any paint can be used and it will not affect the performance of the sat-dome. The only thing you must avoid is metallic paint with actual metal flakes in it.
Sign up to our newsletter