Satellite systems > RoadPro sat-domes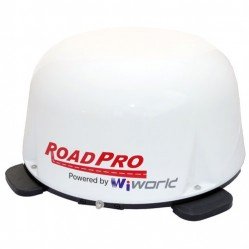 RoadPro has been selling sat-domes for more than 10 years and our domes are the most popular in the UK. There are good reasons for their popularity:
Simple to use: just switch them on and…….that's it!
High reliability: we offer a 3-year warranty as standard and extend that to 5 years when it's fitted by an authorised dealer.
Easily updated (using an SD card or USB stick) should the satellite frequencies change.
Available in a range of models so that you get the one that suits you best.
Unaffected by wind and protected from rain and snow.
Neat in appearance and compact in size so that they often fit where a conventional folding system won't.
Six satellite positions enable access to hundreds of channels everywhere in Europe, including English language news channels such as BBC and Sky News.
Our 30cm sat-domes will pick up all UK TV stations across the whole country including Northern Ireland and Scotland. 40cm models reach as far south as the Bordeaux area. Even an 85cm dish will only give you an additional 200 mile range which means that in the south of France, Spain, Italy and much of Germany, you'll get the same programmes with a sat-dome as you would with a much larger, more expensive dish. You can see the expected range of each model on the relevant footprint map.
Frequently Asked Questions
Can I paint my RoadPro sat-dome's cover?
Yes you can. Almost any paint can be used and it will not affect the performance of the sat-dome. The only thing you must avoid is metallic paint with actual metal flakes in it.
Recent Reviews
RoadPro Mini-Dome
Won the mini Roadpro dome at the MCC National, had it fitted to our motorhome, wow it is fantastic. So easy to use even my husband can use it. Very happy with the dome and would definately recommend. We use it with an Avtex tv.
Sign up to our newsletter